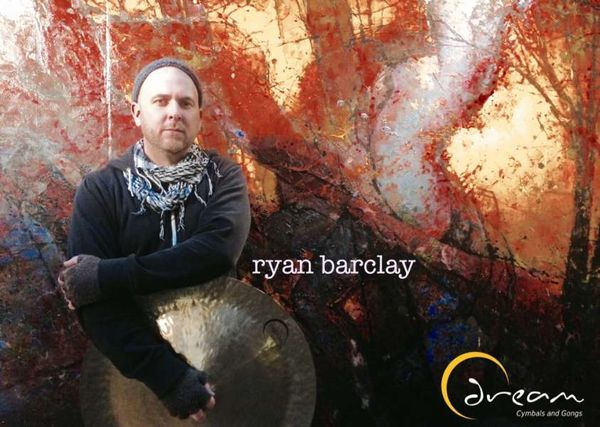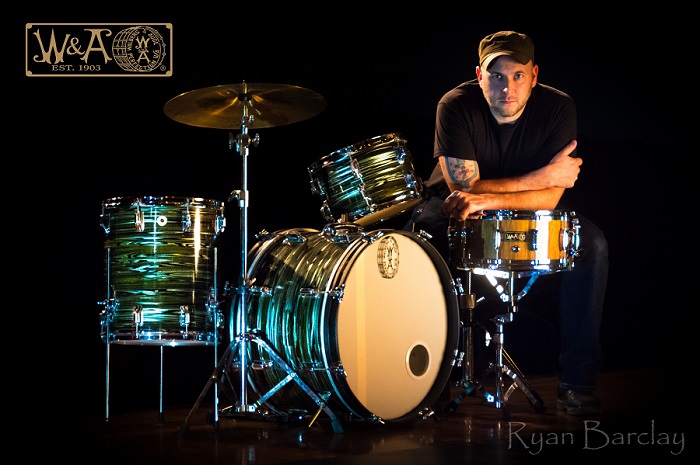 "you need to be sincere with yourself and with your audience. This is who you are, and you've got to be trying as hard as you can to create something for the situation that's new and fresh. There are going to be some mistakes, it may not be perfect, but you've got to be willing to take that chance at any given moment."
-
Billy Martin
-
MMW
RyanBarclay.Net
Inspired by unorganized sound and a firm belief in free exploration, Ryan strives for a sincere in-the-moment musical approach. 
                         Below are tracks from Ryan's solo album, 
                         Ryan Barclay Quintet and Grinion project.
Ryan Barclay is a professional session drummer, percussionist and educator originating from Rochester, New York. Before upper-level academia,he toured Europe with the National Honor Band of America. While completing his B.S. and M.S. in Music Education, he continued to open for, perform and share the stage with various established and up and coming artist such as Salsa greats Tony Padilla and Danielle Antoinette , jazz greats Charlie Hunter and Mark Elf, rock legend Lou Gram and pop sensations, Columbia recording artist Teddy Gieger and Grammy award winning DIDO. Ryan currently works as a live performer, clinician, educator and studio musician where he has recorded countless albums encompassing many different genres.
0:00/8:17

0:00/1:42

0:00/12:57

0:00/2:39

0:00/3:42

0:00/7:16

0:00/5:31

0:00/4:11

Ryan has studied with percussion greats Billy Martin of Medeski, Martin and Wood, Cyro Baptista, Dr. Andy Harnsburger director of percussion at Lee University, Mike Mann of Miami University, John Kasica of the St. Louis Symphony, John McNeil of the Rochester Philharmonic Orchestra and jazz piano great Joe Santora of Cabo Frio.





Education:
Ryan holds a permanent certification in music education in the state of New York
Bachelors - B.S. in Music Education K-12/Percussion Concentration
Masters - M.S. in Music Education K-12

Professional:
Dream Cymbal Endorser 2013-present
Member of A.S.C.A.P (American Society of Composers, Authors and Publishers)
Touring drummer with Columbia Records artist Teddy Geiger 2005
Yamaha drum endorser 2005
Promark drumstick endorser 1996
Spirit of America National Honor Band 1995
9 years as a public school instrumental music educator
13 years as a private percussion instructor

Private Percussion Studies: (Ryan has studied with)
Billy Martin of Medeski, Martin and Wood www.billymartin.net
Cyro Baptista www.cyrobaptista.com
Mike Mann of Miami University
John McNeil of the Rochester Philharmonic Orchestra
Dr. Andy Harnsburger world renown marimba artist, clinician and percussion director at Lee University
John Kasica of the St. Louis Symphony
Joe Santora of Cabo Frio

Master Classes:
Ryan also works as a clinician giving master classes on the importance of music reading, musical feel and working as a professional performer.
gear used with The Moho Collective
drum set:

Ryan Barclay is a Walberg and Auge artist www.walbergandauge.com
 

Current Setup: 

1973 Walberg and Auge drums in avocado strata

8x12 tom

16x14 floor tom

14x22 bass drum

6.5x14 modern vintage snare 2014

cymbals:
Ryan Barclay is a Dream Cymbals artist
www.dreamcymbals.com

Current Setup:
14" Contact Hats
19" Contact Crash/Ride
24" Lion China
Assorted Dream M-BAO / Nipple Gongs 3"-6"
world percussion:
didgeridoo, Irish penny whistle, brazilian pandiero,tambourine,
2 small caxixi, 1 medium double caxixi, 8 MBAO-Nipple gongs,
brazilian cuica, bells on a string from India,
set of wind chimes (low pitched), ludwig bird caller,
duck caller, mexican shaker, small cowbell from India,
large cowbell by Toca, brazilian agogo bells,
3 different sized African apitua (ah-PEE-too-ah) bells,
three different size African djun-djun bells, a small
triangle, goat toe shaker, 2 African JUJU shakers,
kalimba, 15 key Mbira, seed rattle,
1950's wood block with guiro on one side,
Belizian claves, samba whistle,
early 1900's fire house fire bell,
1940's milk can (turned upside down),
large African gourds shaker strung together,
on occasion 3 different sized cast iron pans.